When you have to squint your eyes to inspect things inside the garage, you should know that your garage is poorly lit. Most homeowners don't keep in mind allowing maximum sunlight to enter the enclosed space while designing their garage; hence they must add extra lights to illuminate their garages.
A poorly lit garage isn't just a nuisance but a health hazard too. You can injure yourself from slips, wire tripping, burns, and crushed fingers when trying to navigate the poorly lit garage. An adequately lit garage will not only minimize health hazards but also save on energy costs.
You should first identify which spaces of your garage need proper, focused lighting.
These essential areas include:
Wall space that holds most garage tools and other items.
Ceiling space where you'd seldom store things.
The workbench area carries out DIY projects.
Empty sections where you might have installed any electrical appliance or wiring.
The storage area where you would keep seasonal items and tools, for instance.
Sometimes upgrading your garage fixtures can help to illuminate the enclosed space without adding extra high-lumen light bulbs. You want to choose the kind of lights and fixtures that evenly distributes the light all across your garage.
22 Best Garage Lighting Ideas
Here are the twenty-two best garage lighting ideas that will completely upgrade your garage lighting.
1. Have Layered Illumination
When adding lighting to your garage, you should consider installing layered lighting; ambient, task, and accent.
• Ambient is a soft overhead light that illuminates the floors and walls.
• Task lighting is the brightest light that intends to illuminate workbench and storage areas.
• Accent lighting emphasizes lighting on certain sections of the garage.
With layered lighting, you need not depend on a single source of overhead light. If saving electricity is your concern over everything else, then you can use bulbs with less wattage.
2. Buy Lighting Bulbs with Enough Lumens
Lumens measure the amount of light produced by a light bulb. The more lumens make the garage space brighter. 3000-4000 lumens are enough to brighten a single-car garage that only consumes around 24 watts.
When investing in bulbs, consider well-built 3000-4000 lumen light to produce more light than a cheap 10,000 lumens copy light.
If your garage wall is painted white, you can install light bulbs with lesser lumens as the white walls reflect the light.
3. Consider Bulbs with High CRI
CRI measures how well the bulb can render the full-color spectrum. For garages with workshops, you should install bulbs with a Color Rendering Index (CRI) of 85 to 100. The bulbs with high CRI will render all the colors of the woodworks and paint effectively. Anything under 80 is considered inferior.
All incandescent and halogen light bulbs, by definition, have a CRI closer to 100. They are excellent at rendering color. Be wary about choosing LED bulbs with lesser CRI.
4. Choose a Light Fixture that Matches your Garage Function
Choosing a garage lighting setup is equally essential as choosing the light bulb. Whether you go for the task, accent, or ambient lighting, you should always consider the fixture.
When considering ambient lighting, you'd want the light to distribute evenly across the garage floor. Accent lights are better mounted on the garage section that needs direct vertical lighting.
5. Choose Recessed Lighting for the Ceiling
Recessed lighting is also known as pot light or downlight. It's attached in hollow openings in the garage ceiling that evenly distributes light to all sections of the garage.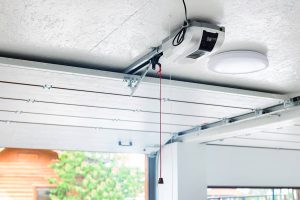 Using recessed lighting comes with many benefits; it saves on space, it focuses on the light and not the fixture, it evenly distributes the light, and the bulb temperatures can be changed for a different effect.
Along with adding brightness, it accentuates the aesthetic appeal of your garage.
6. Paint your Garage Wall in a Lighter Shade
Choosing a lighter shade on the garage wall is an innovative and nature-friendly choice. Consider painting your garage wall with a lighter shade to make it brighter and airier.
The lighter walls will quickly reflect the existing amount of light for more illumination.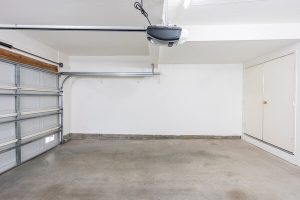 Rich tones like black, brown, or charcoal may add an incredible backdrop, but it will significantly compromise overall garage lights. Moreover, dark spots don't reflect the light.
The next time you paint your garage, choose lighter tones like white, eggshell, or dove gray.
7. Paint your Garage Floor in a Lighter Shade
Along with painting your garage wall lighter, consider painting your floor as well. This is a known way to make your garage look lighter and more prominent.
If you don't want to paint your garage floor, you can consider adding epoxy flooring, vinyl flooring, or carpets with a lighter shade. Epoxy is the best garage flooring option that not only adds brightness but also provides safety.
8. Use Wall Slates for Brighter Garage
Painting isn't the only way to brighten your garage; you can use wall slates to make your garage appear brighter.
You can choose from either natural slate tiles or metal slates to add to your garage wall. Shiny metallic wall slates are affordable and work best to improve the appearance.
9. Choose a Garage Door with Glass Openings
Choosing a garage door with a glass opening introduces natural lighting into your garage space. It works best for garages with no windows.
The multiple glass openings will allow natural daylight to enter your garage and illuminate the interior.
The best thing about glass opening is that it is very much affordable. However, the glass opening won't provide any light at night.
10. Choose Halogen Bulb to Reduce Eyestrain
Halogen bulb burns brighter than incandescent bulbs or fluorescent bulbs that making them a popular choice for most garages. The best thing about the Halogen bulb is that it produces a white light that reduces eyestrain.
Halogen is also a more energy-efficient choice than fluorescent tube lights. It does offer savings of up to 33% on your energy bills. An average halogen bulb can last around 3,000 hours.
11. Choose LED to Save on Energy Cost
Light-emitting diodes or LED is the most energy-efficient type of lighting. A single bulb can provide enough bright light to the entire garage and save up to 90% on your energy bills.
Consider buying quality LED bulbs with higher lumens and CRI to give a more natural look to your garage.
LED doesn't contain toxic material that also makes it completely recyclable. However, the one-time buying cost remains expensive compared to other types of light bulbs.
12. Choose More Oversized Garage Windows
When building your garage, choose to install more oversized windows so that more natural light can enter your garage. If you live in a colder region where having a larger garage window isn't an option, you can consider installing multiple yet smaller garage windows.
13. Introduce Windows by Drilling the Drywall
Did you know that you can install a window on your garage wall anytime by drilling the drywall? Yes, it is possible to include some windows in the garage by drilling the drywall.  Make sure the windows are placed high on the garage wall for security purposes.
14. Use Aluminum Soffit on an Excellent Light Reflection
Aluminum soffit is a great choice to add attractive appeal and brightness to your garage ceiling. A ceiling made of this material offers a good light reflection.
The aluminum soffit also has high durability, especially in the absence of impact damage.  You can install an aluminum soffit on your garage for around $300 – $500.
15. Consider Adding High Bay Lighting
High bay lighting is compelling that is ideal for all garage sizes.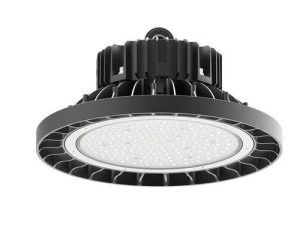 It's ideally used in a ceiling ranging from 20-40 feet in height from the floor. Although it's primarily found in industrial and commercial spaces, homeowners can consider installing them in their garages as well.
The high bay lighting fixtures are suspended from the ceiling that distributes light equally on all areas.
16. Consider Flush Mount Lighting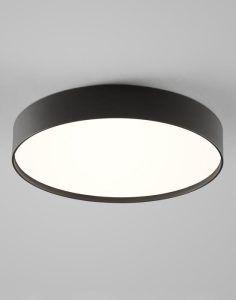 Flush-mounted lighting is commonly used on all wall scones because it is very compact, small, and easily installable.
Because of its unique design, it makes you feel like your entire wall is covered with light. The little light efficiently radiates onto the wall creating a unique and beautiful design.
17. Choose Shop Light for Workshops
Shop lights are a new version of fluorescent lights that make for excellent lighting options for small and compact square footage spaces like garages.
Although primarily used in commercial spaces, shop lights have become common in residential garages because they're simple, cost-effective, and provide a significant amount of brightness.
Choose low-watt and energy-efficient shop lights such as LED shop lights for a residential garage.
18. Choose Transparent Garage Roofing
Installing transparent garage roofing isn't uncommon for residential garages. It provides both natural light and aesthetic appeal to your garage.
Polycarbonate is an ideal roofing material that provides transparent roofing, is resistant to heat and UV rays, and durability. However, it adopts a yellow hue with prolonged exposure to the UV rays. To void this, you can choose an acrylic roofing material.
19. Choose in-floor Lighting for Additional Illumination
In-floor lighting is an excellent way to brighten your garage. The flashlights are mounted under the floor to provide illumination from under. You can consider adding in-floor lighting when building or redoing your garage floor. The best option is to install in-floor lighting under the epoxy flooring to provide a more vibrant look.
20. Choose T5 or T8 Fluorescent or LED Tubes
T5 or T8 fluorescent bulbs are more efficient than the older T12 bulbs. They're far brighter and energy-efficient. They also come with electronic ballasts that minimize flickering.
As an alternate, you can choose LED tubes to save on energy costs.
21. Hang a Mirror Inside the Garage
It may sound unusual, but adding a mirror to your garage wall provides additional illumination and reflection. Hang a mirror on your garage wall for added style and function. It will amplify whatever light sources you're already getting in your garage.
This works great if your garage doubles as a home gym.
22. Get a Glass Garage Door
A garage door made out of glass tends to be slightly expensive than regular metal, but it helps to brighten your garage by allowing natural light. Basically, adding a glass door makes your garage look like a showroom, but you won't be short on sunlight.
In Short:
Most of the time, upgrading your garage lighting will help to rectify all the lighting issues. Be sure to install LED lights with at least 3000 lumens, 4000 kelvin (color temperature), and >80 CRI to give that bright and vibrant look to your garage.