If you're a car owner, you likely have had faced an unfortunate situation where someone broke into your car, keyed, or vandalized it, or slash your tire while it's parked.
This is actually more common than you may know. Did you know, older cars are easier to break into and steal? They're more likely to be reported vehicle content and component being stolen.
A security camera fitted inside your car can largely reduce car-related robbery. It comes in handy when you're driving on the highway with no CCTV around. Just like home security, your car security camera will record every moment if you are hit by another vehicle, a vehicle breaking traffic rules, if someone breaks in, or if any two vehicles collide with each other. Most modern security cameras also log location, speed, and events in case something unusual happens on road.
8 Essential Features to Look for in a Car Security Camera
If you're a new car security camera buyer, then you mustn't be sure about the features to look for in your car security camera. You have many options such as getting either single-channel or dual-channel cams, cams with cloud connectivity, night vision, wireless security, etc.
Here are five essential features that you should for while buying a car security camera.
Loop Recording and Auto Start
Most car security cameras are equipped with auto features including loop recording and auto start. The loop recording features write over older videos once the storage, a hard drive, is full. It prevents the car owner from manually deleting old videos to make space for new ones. It's easier for a car owner to save videos without taking the SD card in or out. Another essential feature of a security camera is that it should automatically start as soon as it's powered. If a security camera requires you to start it manually, chances are you might forget to do so.
GPS Tracker
Check for a GPS surveillance feature that logs the exact location on a map where the action happened. This will greatly enhance the usefulness of your recorded footage. Not every security camera comes with built-in GPS features; most models are built-in with GPS such as they are embedded in the video file. Other models may require a separate GPS unit.
Impact Detection and Event Tagging
It's equally essential for the security cameras for car to record more than just videos. It should come fitted with a G-sensor (Gravity-sensor or an accelerometer is used for detecting and sensing sudden acceleration and deceleration) to detect and record bumps, for motion detection, impacts, and sudden changes in speed.
This feature comes in handy when you need to search for particular footage from the footage archive. It helps to create and tag events along with the footage for future reference.
Supercapacitor
A supercapacitor is not your regular battery! Also known as An ultracapacitor, it's a high-capacity capacitor with high capacitance and lower voltage limits. It allows your cam to record video and shut down properly without creating any errors in the file when the power runs out. This feature comes in handy if the power cable gets disconnected such as during an accident. it will safely record and shut down.
When you're buying a security camera, be wary about buying one with a battery. The regular AA battery composes of Lithium that poses a safety risk when the vehicle is parked for a long time under the sun.
Parking Mode
Security cameras should run continuously even when the car is parked. Surveillance cam comes with a 'Parking Mode' where the cam monitors your parked car, the movement around the car, and for evidence against any hit and run. That isn't just what a Parking Mode should do, it should also be power-efficient i.e. use less power when in a parking mode.
Most security camera comes with a buffered parking mode facility where it record and save the last few seconds of the footage such as in the hit-and-run case. In the case of motion detection, it creates an event video that includes a few seconds of footage before the impact.
Network Access
Most car security camera requires WiFi or internet to access the footage. It's true that WiFi or the internet isn't always available, but what do you do to access the video? Go for a surveillance cam that offers wireless security and a remote network to access video without the need for the internet. You can always buy a WiFI signal booster, but that wouldn't come in handy when there are signals around. Check for the remote viewing option in security cams.
Sharp Video and Night-vision
What's the use of a security camera that has a poor video resolution or blurry night vision? A surveillance cam should record and save footage in HD (1080p) for better identification. A decent night vision is a must to record every tiny detail even in total darkness.
Automation
Car security cameras are cool gadgets in the sense that they can record break-ins, collisions, police stops, or even something interesting such as beautiful scenery. If you want something cool, go for a surveillance cam that sends an immediate notification to your phone when something unusual takes place such as a break-in or impact.
Prices of Car Security Camera
The price for a security camera differs according to the model and feature. A basic dashcam can cost as little as $30. A good one may cost anywhere from $150 to $500. A professional-grade dashcam may cost $500 and offers a 160-170 degree wide-angle view which is most useful for heavy vehicles such as trucks.
What determines the price of a security camera? Let's take a look.
Consumer vs. Business
A consumer cam is more applicable for cars. It comes with limited features and may cost anywhere from $30 to $150. The business cams offer high-quality options and may cost anywhere from $80 to $500.
Video Quality
Not all surveillance cams are built equal. Few cams may record footage of 720p or 1080p while others can record footage up to 2K and 4K. 2K and 4K are the highest digital video resolution that you can get in the market. It offers more pixels hence clearer and sharper footage. 2K or 4K footage can come really handy when it comes to making insurance claims.
Front-facing vs. Dual-facing
A surveillance cam either records the front or both front and back. A front-facing camera will definitely cost lesser than a dual-facing camera but it will only offer a limited front-facing view.
Features
The major price-determining quality of any surveillance cam is its feature such as night-vision, motion-sensor, G-sensor, collision detection, auto-recording, time-lapse auto recording, cloud storage, GPS, etc.
10 Best Car Security Cameras for 2020
Here is the list of the ten best car security cameras for 2020.
Nextbase 622GW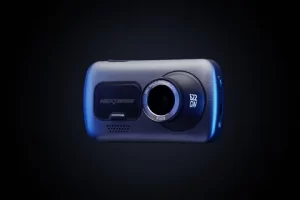 Nextbase comes with 4K video quality, 140 degrees viewing angle, GPS tracker, MicroSD.
It also comes with a built-in polarizing filter on the front camera to reduce glare from windscreens. It offers a perfect night vision.
It offers a 3-in rear touchscreen.
Nextbase 522GW
It comes with 1440p digital video quality, 140 degrees viewing angle, GPS tracker, and MicroSD
Starting at the price of $249, it offers a responsive 3-in rear touchscreen, built-in Amazon Alexa to play music, or to make calls.
Digital Videos can be accessed via Bluetooth or WiFi
Garmin Dash Cam 66W
It comes with 1440p video quality, 180 degrees viewing angle, GPS tracker, and MicroSD.
The compact design with countless features starts at $199.
Users can access the device using voice commands, such as 'OK Garmin, save video' and take a picture.
Viofo A129 Pro Duo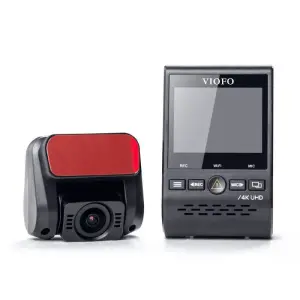 It comes with 4K video quality, 140 degrees viewing angle, GPS tracker, and MicroSD.
It runs supercapacitors but a regular lithium battery and can withstand extreme temperatures.
You can access both the device and footage via a smartphone app.
Garmin Dash Cam Tandem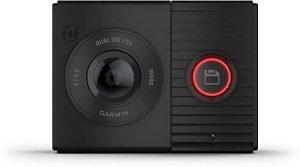 It comes with a 1440 p front-facing optical lens, 720p night-vision interior optical lens, 180 degrees viewing angle, GPS tracker, and MicroSD.
Starting at $299.99, the dashcam allows you to view both inside and outside the car. It's really handy for drivers who want to keep an eye on their passengers.
You can access the device via the Garmin Drive app on your smartphone.
Kenwood DRV-830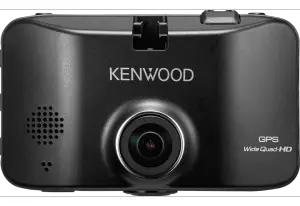 It comes with 1440p digital video quality, 144 degrees viewing angle, GPS tracker, MicroSD
It's equipped with a 3-in full-color TFT display.
It's built-in with advanced driver assist systems such as lane departure and front collision warning.
Thinkware TW-F770

It comes with 1080p video quality, 140 degrees viewing angle, GPS tracker, and MicroSD
It has a 2.19MP Sony Exmor CMOS sensor and full HD recording.
The super night vision is easily captured in the low-light settings.
BlackVue DR900S-2CH
It comes equipped with 4K Ultra HD video quality, 162 degrees viewing angle, GPS tracker, and MicroSD
Starting at $413.99, it offers an 8MP CMOS sensor upfront and a Sony STARVIS CMOS sensor in the rear.
Vantrue N2 Pro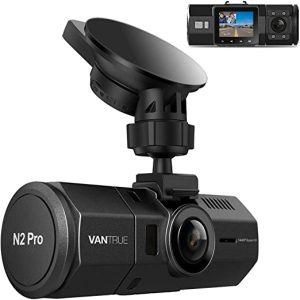 It comes with 1440p video quality, 170 degrees viewing angle, GPS tracker, and MicroSD.
Starting at $199.99, it offers a high-grade front optical lens with an f/1.8 aperture for capturing crisp images in low light. Perfect night vision.
A second f/2 optical lens faces the cabin and is supported by four IR LED lights.
Halfords HDC400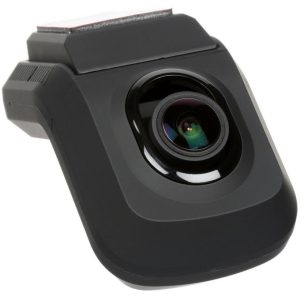 It comes with 1440p video quality, 180 degrees viewing angle, GPS tracker, and MicroSD.
The 180-degree viewing angle captures wide-angle footage for better security.