Did you know you can turn the unused garage into a functional space such as a gym, a workplace, host parties, or even a temporary shelter?
You can quickly turn your garage into a modest space by installing a Garage Door Screen. The simple door screen covers your garage's entrance to prevent pests and critters from entering. Along with keeping small animals away, it also keeps your garage space hidden from the onlooker's view.
If you're wondering how you can benefit from installing a door screen, here is everything you need to know about door screens, door screen types, and their uses and benefits.
What is a garage door screen?
A door screen is a temporary screen wall added to the garage door to turn the garage into a temporary shelter or a living space. The retractable screen wall can easily be installed, folded, and removed. The door screen's lightweight property makes it a popular choice among garage owners who often install it to turn their garage space into something useful, such as a workspace or gym. You can also turn it into a temporary place to host parties or family events.
Visibly pleasing to the eye, a garage screen fits into the door opening much like a double-screen door.
The screen door is made from mesh-like product spread and glued to the light metal frames. The center usually has a door, or opening made using a track system to slide it open without fully retracting the door screen.
Along with keeping pests and onlookers away, it adds to the ambiance of the garage space. The see-through partition acts as a barrier between the outside and inside the garage. Along with keeping pests and animals away, it makes your new space discreet to onlookers' eyes.
A door screen is a makeshift screen that works with your existing door.
It's usually fully spring-loaded, making it easy to open or close. The screen door tracks are mounted parallel to the existing door track without taking up any more space.
Whenever you need the door screen, you can retract it or pull it down.
The door screen also contains a retractable door for ease of entry and exit.
Types of Garage Door Screen
You can find different garage door screens in the market, including a Barn-style screen door, Patio Doors Pantry, Pivoting, Retractable screen wall, French Doors, Decorative and Compact sliding screen door, etc. However, the traditional screen doors are divided into three common types.
Roll-up Screen Doors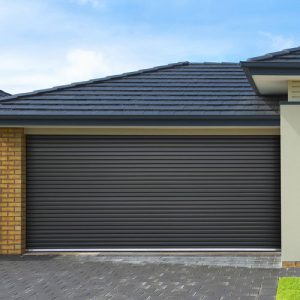 Roll-up screen doors are the most affordable and standard garage door screens. It's also the most preferred door screen for most garage owners.
You can easily roll the door screen down or up whenever needed without much effort. It's useful for homeowners that rarely use the garage screen feature.
The roll-up screen resembles regular curtains; hence it's often referred to as garage door curtains. It's attached or hung to the garage door header.  You can also opt for hook and loop straps to attach the door screen using Velcro for easy attachment and removal. Snap fastener is another option for easy attachment.
It also comes fitted with a zipper in the middle to exit and enter the screen door quickly.
Retractable Screen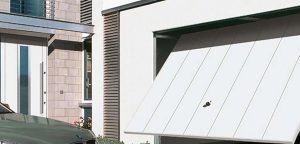 Retractable screen doors are also known as Pull-down screens. They have been around for a while and are suited for all types of garage doors.
The retractable screen installs using a housing system that attaches to the header. You can use a remote control to raise or lower the tall door frames or use your hand to operate it manually.
It comes with an inset mount installed at the bottom of the garage door's top. You can find a chain attached to the inset that lets you lower or pull the screen door. The tracks installed on the sides of the screen panels guide the screen to roll smoothly.
It tends to be slightly heavier than other garage door screen types.
Sliding Screen Doors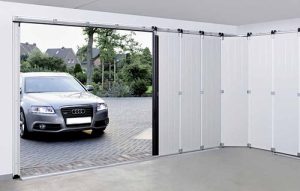 Unlike other retractable door screens, sliding screen doors remain fixed in their place but can move sideways. You can imagine classic Japanese doors that slide sideways. The tracks installed below the garage door's header frame allow it to roll sideways.
You can slide it open using your hand or use a remote controller to slide in and out. T
Resembling the Japanese sliding doors, it comes in either two-track or four-track system. It has either two-door pieces or four-door pieces, whereas the four-door pieces suit double doors. Each door has a track that helps it slide through.
The only downside with this cool-looking screen door is that it requires a lot of maintenance and cleanliness because the tracks installed on the floor easily get exposed to dirt and dust.
Uses of Garage Door Screen
A homeowner may have many uses for a garage door screen.
It blends with your lifestyle.
An appealing garage door screen adds décor to your home, hence adding finesse to your lifestyle. The high-quality door screen materials add both beauty and durability to your garage. You can invite friends, neighbors, and colleagues to your garage for partying, occasional visits, or a direct business gathering.
It upgrades your living space.
As mentioned above, it boosts your home's square footage and adds space. You can use the additional space to run a workshop, build a library, make a gym, or a simple place to party or hang out.
It reduces energy costs.
It helps to save energy bills during warm summer months. By opening the garage door and adding a door screen, you allow the air to pass in and out quickly. You can avoid adding a portable A/C system or multiple fans inside your garage to keep it cool.
A door screen can also be useful when you're partying inside the garage. It allows the air to circulate freely without bringing in the pest and insects that are rampant during warm weather.
Importance of Garage Door Screen
Garage door screen offers a great many importances to any garage. One of the many importances of a garage door screen is that it allows you to upgrade your unused garage space into something useful.
It expands your home's square footage.
When you convert your garage into a living space, you suddenly gain square footage. It automatically appreciates your house's value. With gained square footage, you can use the additional space for conducting activities that you can't generally do inside the house, like hosting a large family gathering or party. Additional space in the house means you can use it whenever you want.
It prevents pests and insects from entering your garage.
All kinds of pests and insects crawl inside your garage when you keep the garage door open. It cannot be delightful when you're working inside the garage. Adding a door screen acts as a barrier that allows the air to pass in but keeps the bugs out.
The door screen comes in handy when partying in the evening or night because insects often make their way inside your home in the dark.
It keeps your garage clean.
The door screen prevents leaves, dirt, pollen, and dust from flying into the garage. The protective barrier lets the air in but keeps all foreign elements outside. It comes in handy when you're working with sticky materials like grease or petrol. The dust can quickly settle on the sticky mechanical parts creating a nuisance.
It adds additional security.
Leaving a garage protected with a door screen adds extra security. It keeps the onlooker's gaze away from your garage, especially when you've stored expensive tools and equipment inside the garage.
How much does it cost to add a garage door screen?
Installing a custom door screen may cost an average of $1,400. You can call a professional who will bring a garage door screen and custom fit it into your garage door at no time.
Did you know you can make a custom door screen using minimal tools and equipment at home?
Yes, if you're looking to save the cost of installing a new garage door screen, you can consider making a door screen yourself.
Here's a brief instruction on creating a DIY garage door screen
Grab materials and tools like a roll of fiberglass screen (48″ wide), #10 aluminum extra-long heavy-duty separating zippers with a 2-handle double pull, Velcro brand fastener, and scissors, measuring tape, tin snips.
Start with measuring your garage door (Consider that you want to mount the door screen either inside or outside the garage door.)
Cut the fiberglass screen into two panels using the previous measurement.
Pin the extra-long zipper precisely between the two screen panels. You can either use a Velcro fastener or custom sew the zipper onto the screen panels.
Test fit it to the garage door and then cut the excess parts in the corner.
Don't forget to Velcro-attach or sew the bias tape to the bottom.
Stick Velcro fastener to the sides and top and snip off the extra-long zipper using custom fitting it to the garage door. Voila!
Although it wouldn't look exactly like a professional garage door screen, you'd have yourself a custom screen door made under $200.