Many homeowners use garages not only to park their vehicles but also to store different items. From storing old machinery, toys, pet food to boxes, a garage often becomes cabinetry of assorted items.
As someone who stores stuff inside the garage, you'd very well know that the small space can quickly fill up and create clutter that becomes difficult to manage or remove. So how do you manage the garage space for storing items? The best possible way to store items in the garage without creating clutter is to install garage shelves or cabinets. You can mount them on the wall, hang them on the ceiling, or put them aside from the wall.
Wood and metal cabinets are the most common garage shelves because they're sturdy and long-lasting. However, which one is better?
Let's find out more about the respective garage shelf types and examine their pros and cons.
Metal Garage Shelf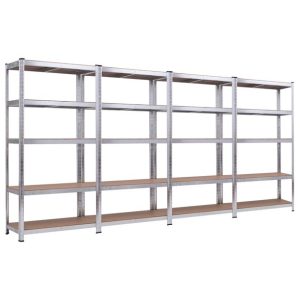 Metal racks or metal garage cabinets boast sturdy material that supports a lot of weight for an extended period. Some metal shelves can hold as much as 4,000 pounds of heavy items, including car parts, machinery, metal tools, books, etc.
You'd mostly find metal garage racks made from either aluminum or steel. Some metal garage racks feature galvanized steel that is more durable than any other material, including prefab cabinets and plastic garage cabinets.
Talking about design and sizes, you can choose from custom sizes and models of metal racks compared to any other material because of their flexibility. The flexibility in design is one of the significant pros of metal racks. Also, you can choose from wall-mounted design, ceiling-mounted design, or freestanding units with wheels to move around.
What are the significant advantages of installing metal shelves?
The durability and strength are the most significant advantages of metal shelves. A single steel shelf can carry from 1500 pounds to 5,000 pounds of weight.
Metal racks are easy to mount or set up because most rack models are designed for assembly. You can check the step-by-step instruction to connect and mount the parts.
Metal racks can be designed to fit any space. You can install ceiling-mounted or wall-mounted metal racks for easy storage for a compact garage with less floor storage space.
A metal shelf means a less cluttered garage. You can efficiently store and pick up items from metal racks compared to enclosed cabinetries.
The metal doesn't attract pests, insects, and moisture, a common problem with wooden cabinets.
Metal racks easily resist temperature change. It doesn't matter if the weather outside is hot, cold, or rainy; your metal rack won't contract or expand with the changing temperature.
What are the disadvantages of using metal shelves?
Although metal shelves are known for their durability, strength, and mobility, a few drawbacks might discourage homeowners from installing metal racks.
Metal is susceptible to corrosion, particularly steel, in building areas exposed to moisture or corrosive chemicals. Unprotected steel building rack quickly reacts with water, moisture, chemicals, and heat, leading to corrosion in a short period. Your only option is to install a metal rack coated with stainless steel or wrapped with a protective layer of plastic.
A metal cabinet with a protective coating or finishing is slightly expensive.
Metal is heavier than any other quality materials; hence you should be wary about mounting the rack on the wall or ceiling. A freestanding shelf without any support on the wall can easily fall over when pushed over. It would be best if you were extra careful about storing bulky items on the ceiling-mounted metal cabinets.
Wood Garage Shelf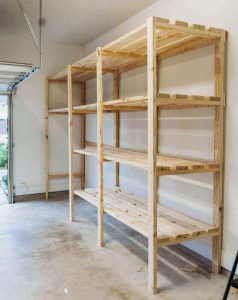 Wood shelves are a more aesthetically appealing and expensive garage shelf option. They add sleekness and style to your garage.
For homeowners with a big budget, wood cabinetry is the best option. You can choose from many different types of wood cabinetries for your garage. Their custom design and texture easily suit any building's interior. Another significant benefit of using wood over other materials is that wood ages well. A quality wood cabinet will enhance the look of your garage with minimum wear and tear.
Depending on your budget, you can choose from different wood materials for your garage rack. Yellow pine plywood racks are slightly inexpensive compared to oak, maple, or cherry plywood, but they aren't pretty to look at.
Cherry plywood is more robust and lightweight, while Birch plywood is excellent for making cabinets and furniture. Your best option is Oak or Maple wood plywood that quickly resists stains and matches the existing wood in the room.
What are the advantages of installing a wood garage shelf?
You can easily customize wooden garage shelves. They're lighter and more flexible than metal making them the favorite choice for most homeowners.
Wood cabinets are great for storing high-end items like golf clubs, skiing equipment, motors, and equipment. They are a more luxurious option.
Adding wood shelves makes your garage closer to nature. Wooden shelves are the best available option for an earthly element. They also create a stress-free environment with their smell and fascinating patterns.
Wood building material has a higher insulation rate than plastic or metal due to its cellular orientation; hence wooden shelves require less energy to build and maintain.
Wooden shelves are beneficial to us because they help regulate humidity levels to a small degree and absorb noise.
What are the disadvantages of installing a wood garage shelf?
One significant disadvantage of using wood is its poor insulation. Some type of wood racks that lack a protective finish is subject to warping, bowing, and cracking.
The 3/4-inch plywood is considered the industry standard, but when you use inexpensive wood material, it's less likely to bear the weight of heavy objects. Hence, your only option is to install thicker plywood made from sturdier wood material.
Engineered wood in particleboard, MDF, and plywood is typical wood products used to make garage racks, but they are less durable and easily warp underweight.
Wood shelving is costly because it's a non-renewable material. When you buy expensive wood material, you risk losing the rare forest wood.
Wood is prone to moisture. The poorly laminated wood rack will absorb moisture and start sweating. The moist wood often attracts pests and insects.
Wood isn't fireproof hence making it a dangerous option for a garage stored with flammable objects.
Wood isn't temperature-proof. They easily contract and expand with differing temperatures. Garages with a built-in heater can easily affect the wood cabinets.
Wood product is prone to termite and insect infestations; hence, you'd need to add an extra layer of protection in your garage to prevent pests and insects from entering at all times.
A wood rack isn't great for storing heavier power tools and equipment, including gears, machinery, paint cans, and metal parts.
What to choose for your functional garage?
Choosing between wood and metal for the garage shelf entirely depends on your garage design, need, and budget. You can choose from the wall-mounted shelf, ceiling-mounted shelf, or freestanding shelf, but it depends entirely on your investment budget and taste when it comes to material.
The cost for installing a wood garage shelf may cost anywhere from $700 to $3000. In comparison, metal shelves come at a price range starting at $100.
If you want to add an aesthetic appeal and decor to your garage, a wood cabinet is the best option. If you're looking for durability and strength over everything else, then galvanized steel garage shelf is your best choice.