If you ask any homeowner who works inside their garage, they will tell you that having a fixed station to work and keeping all your tools and equipment is a life-saver.
Workbench is conceived as a remote workplace where you can indulge in building woodworks, either to sell or for a hobby. Most homeowners choose to keep their workbench inside the garage because of the availability of space.
An innovative workbench provides ample space and closets to keep your tools. Most new workbenches can be designed with wheels so you can move them around the garage floor.
Are Workbenches Worthwhile?
Even if you haven't any need for a basic workbench, you can still choose to keep one to occasionally repair and renovate items that would otherwise be messy inside the house.
This will provide you with excellent results and a comfortable place to get projects completed with ease; hence workbench is a big part of any garage.
When buying a workbench or building one from scratch, you'd need to keep many things in mind, including the size and weight of the bench, plenty of storage capacity within it, and materials used.
Garage Workbenches Types
You can build workbenches for different purposes. You can pick the material depending on your purpose.
Vanity Benches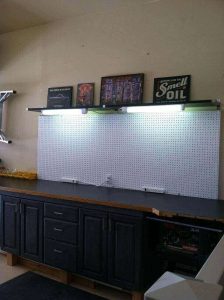 As the term suggests, Vanity benches display workspace with decor. These types of workbenches feature dovetail jointed drawers, raised panel door construction, and are finished with a double layer of wax for a smooth surface.
For a bench like this, nothing but the best materials will do.
If you want to build one by yourself, consider using a plain piece of hardwood in your choice of grain.
Use a biscuit joiner to fit the pieces together into a solid top.
Finish the bench with a Danish oil stain and wax for a suitable surface. Please give it a retouch with a new coat of wax.
Carpenter's Benches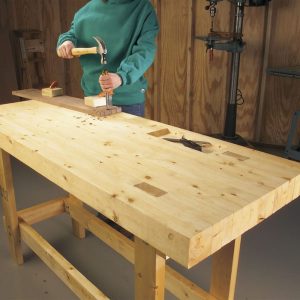 Carpenter's benches or woodworkers' benches are meant for homeowners interested in carpeting works.
Those who like to get their hands dirty and are more concerned with function than style choose a carpenter's bench.
These types of benches see the most wear and tear because of sharp tool uses.
When choosing a carpenter's bench, go for benches with a 3/4-inch medium density fiberboard (MDF). MDF is sturdy and holds a lot of weight. You can quickly flip it or replace it once the surface is too worked up.
Don't forget to add a coat of beeswax on a finished workbench that will repel stains and paints.
Cabinetmaker's Bench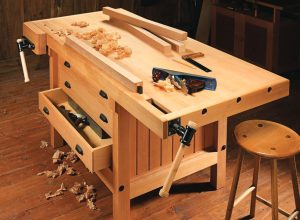 The cabinetmaker's bench resembles the woodworker's benches. It's fitted with vises, usually one at the tail and the front, to hold items in place.
It's often fitted with pocket holes or bench dog holes and bolts or collars for holdfasts.
What differentiates it from other workbenches is the casework below the top surface: drawers and cupboards used to store tools.
Crafter's Benches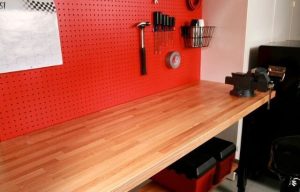 Crafter's benches are ideal for artisans. They are typically smaller and set up for particular purposes. With a crafter's bench, you can work on your wood, plastic, or metal crafts without worrying about scratches.
Choose the crafter's bench with a 3/4-inch plywood top covered with soft material like carpet that provides a smooth work surface for fragile crafts.
For metalwork, consider installing a thin sheet of metal over the plywood.
As an option, you can keep one side soft and the other hard by covering the half surface with carpet and the other with hardwood.
Garage Benches
A garage bench is ideal for garage works such as repairing car parts, occasional home appliance repair, bicycle repair, and power tool repair.
Depending on your need, you can fit multiple closest to the bench to provide ample storage space for heavy tools.
The top surface will quickly deteriorate from oil spills and grease. Ensure to clean the surface with the chemical agent regularly after every use.
What is the Perfect Dimension of a Workbench?
The exact dimensions of a workbench depend on its use and the height of the user. Usually, the ideal dimensions of the workbench are 28-36 inches for depth, 48-96 inches for width, and 28-38 inches for height.
Height
The perfect workbench height should be between 36 "and 38" (90 cm to 96 cm). This height is ideal for the comfort of the user during light work.
Here are a few considerations for an ideal workbench height.
For fine work such as drawing – The workbench height should be 39″ (100 cm)
For easy work –Workbench height should be 36″ (90cm)
For heavy work such as repairing equipment, sawing, etc. – Workbench's  height of should be 31″ (80cm)
The goal is to choose a workbench that allows you to work with your back straight to avoid the fatigue of the back muscles. A low workbench forces you to bend down slightly, and a too-high workbench wouldn't be inappropriate for your stature.
For example, if your height is 170 cm, then the level from the worktop should be at a distance of 70 cm to the floor level.
Surface Thickness
Choose solid wood for the workbench as it offers the required thickness and strength. The thickness of the workbench surface should be at least 3″ so you can do your work comfortably.
Oak or maple are the two most popular wood material choices for workbench surfaces.
Garage Workbench Designs
One of the crucial steps to choosing an ideal garage workbench is the design.
Not every workbench is made the same. Some are appropriate as the outfeed table in the garage, while others are ideal for hard-duty work. Ascertain your need before choosing a workbench:
Do you need a fixed or movable workbench?
Do you need casters for storage and mobility?
Should you add additional shelves or storage drawers?
Foldable and Mobile Workbench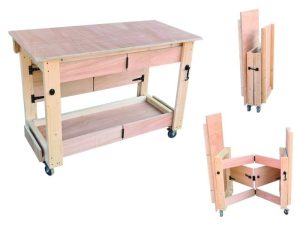 Foldable or mobile workbenches are a popular choice among homeowners who have small garage space or shop space. Pull it up whenever you need to work and fold it down and push it to the garage wall when you're done.
A mobile workbench is a popular choice because you can move this workbench to any place inside the garage.
Stationary Workbench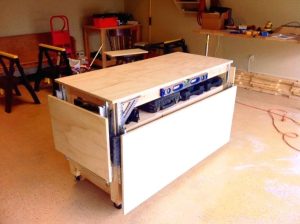 Hand-tool woodworkers mostly prefer stationary workbench that doesn't quickly move when shoved against them. It provides the much-needed unmoving stability to get the woodwork right.
Base Options
As the foundation for the top, you'd want a workbench with a sturdy and rigid base. Choose a wood trestle-style base with touch mortise-and-tension joinery.
Vises for Versatility
Depending on your use, choose a workbench with built-in vises. The bench vises hold pars quickly and firmly, saving on setup time. Using vises helps to free your hand. You can use both of your hands on the work while the vise holds the larger objects in place.
Flip-top for Stationary tools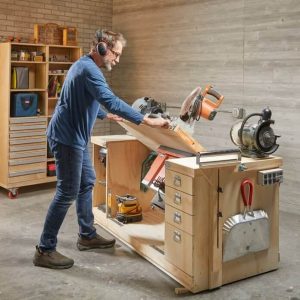 The workbench fitted with a flip-top helps to store a list of tools when not used. It gives a double platform for work and tool storage. Whenever you're not using the workbench, your power tools can sit safely in their correct places.
Drop-leaf Workbench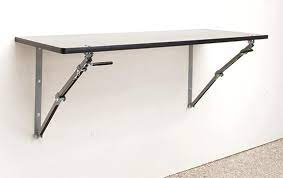 The Drop-leaf workbench is vast and accessible from all sides. The best thing about this design is that it folds up and down to provide an ample workspace. The hinges join two pieces of scrap wood surface together.
Whenever you need to work, you can fold it up. When done, fold it down, hence called "drop-leaf."
Light-duty Table
Light-duty, simple workbench is made from light materials such as plywood or plastic. The classic design doesn't boast built-in storage. It's more appropriate for light works such as sewing, painting, and school projects.
Backboard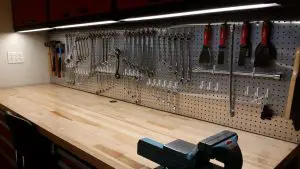 You can fit almost any workbench with a backboard. A simple board across the back holds tools and supplies from tumbling off. It's often fitted with a pegboard for storage.
Backboard workbench is handier for users who deal with numerous small tools while working. They can easily pick the item from the backboard and keep it back.
Conclusion
When it comes to making a functional garage workbench, it's essential to assess your requirements, needs, and budget.
Designing a workbench out of scratch is easy when you have the material and tools at home. Otherwise, you can choose to buy professionally made workbenches with accessories suited for your need.