Aside from parking your car, your garage is one of the most valuable parts of the home. Most homeowners use garages not only to park their cars but also as storage for various items. Hence, managing your garage for storing tools and other seasonal items becomes essential.
A cluttered garage space quickly becomes home to pests and small animals; moreover, entering an unmanaged garage can become a severe health hazard.
Whether storing metal tools, bicycles, lawn tools, yard tools, or seasonal items like fertilizer, excellent garage storage allows you to place items without compromising the space and décor.
Here are some essential tips to maximize space while keeping everything in order if you're struggling to manage garage storage.
Start with Preparing Your Garage
Before organizing your garage, you'd need to clear your garage space of all items to assess what kind of storage option will fit you best.
Clear the garage of all the items, including all clutters. You can choose to throw away the items or donate them instead.
Check the garage size or square footage, including ceiling height. Overhead storage isn't appropriate for garages with lower ceiling height, while overhanging wall cabinets work well in all garage types.
Before installing cabinets and shelves, you can redo the wall for minor fixtures and leakages too.
10 Tips to Improve Garage Storage Space
Organizing a garage for storage isn't a one-size-fits-all project; hence we've compiled different yet best garage storage ideas for you.
Add Garage Cabinets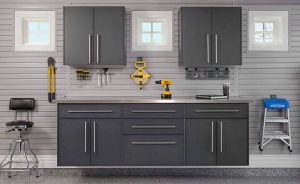 Garage cabinets are the commonly used storage found in most garage spaces because they are enclosed, safe, and decorative.
You can use a storage cabinet for vertical space to store all kinds of items, including household items, car lubricants, painting supplies, and tool holders and gears. You can also combine wall and base cabinets to make a set.
Depending on your need and budget, you can install either wood cabinets or metal cabinets.
A metal garage cabinet is more durable than wood cabinets, but it only works in garages that don't have temperature or moisture control.
To enhance your garage's look, consider installing wooden cabinets. Wooden cabinets are more temperature and moisture-friendly.
Install Wall Organizers
Consider wall organizers when you have a limited garage space. Wall organizers like wall hooks, racks, and pegboard panels are great for hanging items. This removes clutter on the floor while keeping garage space maximum.
Measure and cut pegboard panel and fasten it to your garage walls using 2-inch drywall screws. You can add hooks to it to hold tools, shoes, ski poles, fishing rod holders, garden hoses, and many more.
A garage tool rack is another great option for hanging bulky equipment like bike storage, shovels, gardening tools, sports equipment, and sharp tools. You can also install racks and hooks on drywall.
The Wall organizer gives you a continuous fastening surface so you can mount hardwires easily.
Add Overheard or Ceiling Storage
Adding overhead or ceiling storage in garages is a great option to save floor and wall space. Use ceiling-mounted racks for additional overhead storage solutions and long-term storage. You can use hanging racks or fixed shelves, depending on your choice.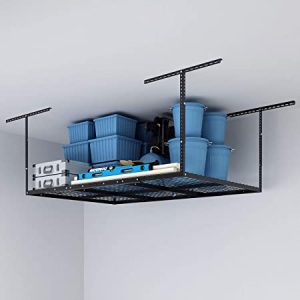 Overhead space is a perfect place to store seasonal storage items like holiday items, camping gear, and workshop tools.
You can also store bulky items in overhead storage. Make sure you're using ceiling joists and sturdy materials for building garage ceiling storage. Install a safety net under overhead racks in case you're in an earthquake-prone area such as California.
However, ceiling storage is not appropriate for garages with a low height.
Create a Folding Workbench
Installing a folding workbench is an excellent idea if you use the garage space for a workshop. This eliminates the need to add a workbench inside your small garage.
The great advantage of the folding workbench is that you can fold it after every use, so it's a space saver. The collapsible workstation is also easy to build and install. As an option, you can install a rolling workbench.
Use Magnetic Boards for Small Parts
A magnetic board installed on the unused wall is an excellent idea for homeowners who frequently lose nuts and bolts and small parts while working on their workbench.
It's also a cheaper option to store small items. You can easily make a magnetic board using a DIY method costing a few bucks.
Don't forget to use cold-rolled carbon steel sheets to make a magnetic board and Spray paint or plate the sheet before use to avoid rust before adding magnetic strips.
Go Mobile with Work Areas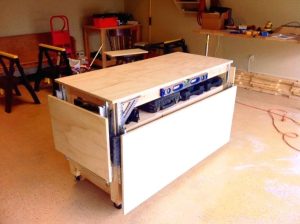 Consider adding a mobile workbench to build a work area when you're not using your garage for car parking. Building a work area with wheels is a great idea to save on space. When you're not using it, you can move it to the functional space to store the most-used tools.
Upgrade to Adjustable Shelving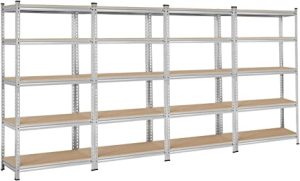 Adjustable shelves work great for most garages because they are sturdy and long-lasting. Shelves are great for storing holiday decorations, clothes, small items, plastic storage bins, power tools, and equipment.
You can choose between metal garage shelves and wooden shelves depending on your need. Metal shelves can hold as much as 4,000 pounds of heavy items, including car parts, machinery, metal tools, books, etc. Wood garage shelf is excellent for adding aesthetics and style to your garage.
Consider using Cherry plywood for wood garage shelves as it's more robust and lightweight. However, using a wood shelf comes with a significant disadvantage. It has poor insulation and can warp under moisture.
Install Pegboard and Hooks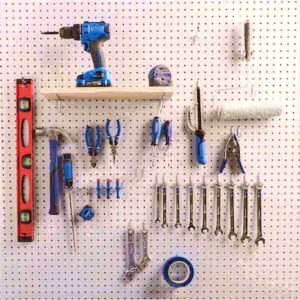 Pegboards are a practical way to organize and store everything from tools to craft supplies. It can easily install on wall studs, hence saving significant floor space. On the other hand, hooks are great for hanging all kinds of items, including shovels, garden tools, sharp tools, clothes, etc.
Installing pegboards and hooks also keep your garage clean. Consider adding metal pegboards that are highly resistant to chipping, cracking, or warping.
For garages with many wires lying around, considering tying the wire and keeping them in a single place is a great idea.
Tie and Keep Wires in One Place
Wires can add to a cluttered look in your garage; hence, consider tying your wires with zip ties or a paper clip and storing them in wire racks or wire bins.
Try to keep everything together in one drawer, so you only have to search for a specific wire at a particular place.
Lockdown Power Tools
Almost every homeowner keeps power tools inside their garage. Power tools that are rarely used can be kept in hidden corners. You can keep power tools inside your wooden cabinet or metal shelves if they're big enough. Otherwise, you can keep your power tools under workbenches.
What not to store in the garage?
Along with these ample storage ideas, you should avoid storing these items in your garage cabinets and shelves.
Propane tanks
Clothing and bedding
Paper products
Fresh food
Temperature-sensitive items
Canned food
Refrigerator
Vinyl records
Cost for Organizing Garage Space
The best garage storage system is mainly dependent on your individual needs, garage space, and budget.
Installing a simple garage cabinet may only cost a few hundred bucks. Still, if you're seeking to add cabinets with adjustable shelving and remote storage space, the cost could run anything over $3500.
If budget is your concern, you can always use DIY methods to maximize storage space and build custom cabinets and shelves that would cost you anything from $300 to $1200.
It's a good idea to hire a professional who will always help you figure out the best options for garage organization needs.
In Short
Garages are frequently the most prominent storage space in homes, and it can be a daunting task to get it all organized. It takes a bit of planning and some expertise to organize your garage and storage spaces.