Many homeowners choose to turn their only garage into a makeshift gym. In recent years, manufacturers have started seeing a significant increase in the number of customers wanting to convert their garage into a whole or part gym.
This is an excellent thing because you can quickly get ideas and tips to turn your garage into a functional gym by either yourself or hiring a professional.
However, many garage gym owners aren't aware that it takes a bit of planning to run a gym. The metal equipment can easily rust from moisture and variable temperature inside the enclosed space.
Before you start the project, here are all the pros and cons you'd need to know about turning your garage into a gym and ways to turn it into one.
Benefits of Owning a Garage Gym
One of the most significant benefits of having your gym is saving money on monthly gym memberships. Yes, you will have to pay for garage gym equipment, but the money you'll be saving per year on membership will be significant.
According to Hustle. co,
Membership fees vary widely based on your location and gym of preference, but the industry-wide average falls in at $58 per month or $696 per year.
Some of the other benefits of garage gym are:
By dropping the monthly membership fees, you'll likely save money that can be used for other purposes such as house maintenance, adding a new garage fixture, car repair, paying extra energy bills, etc.
With all the equipment at your disposal, you needn't passive-aggressively wait for someone to leave the equipment.
Gym in the garage means no need to commute miles to reach the gym.
Open the garage door to let the fresh air in at all times.
With a gym at home, you can encourage family members to exercise regularly. This is enough to get your kids off the couch and burn calories.
However, there are significant disadvantages to having a gym inside the garage.
The variable temperature inside the garage because of changing weather will affect your equipment. The moisture created by perspiration will easily trap inside the enclosed space that will rust exposed metal parts.
Having equipment in the garage means you'd need to regularly maintain them, change the protective floor surface annually, and ensure there's always enough space for parking vehicles and storing equipment.
However, looking at all the benefits of having your garage gym, it's safe to say that you should seriously consider turning your garage into a functional gym.
Tips to Build a Garage Gym
If you've decided that the garage gym is for you, here is a complete guide to help you set up one. This guide delves deeper into the main components of the garage gym, specific equipment and gear, and storage requirements.
Equipment
Many new fitness enthusiasts put this concern – what should I put in my garage gym?
Stick to equipment that you already use in the gym instead of trying something new. Make sure you have equipment for both cardio and resistance training. The core of your garage gym should include
Barbell
Dumbbell rack
Rack
Bumper plates
A weight bench/flat bench
Kettlebell (Dumbbells)
Squat rack with pull-up bar attached
A weight tree
Depending on your need and available storage space, you can keep adding more equipment but do keep in mind that gym equipment often comes expensive unless you're buying second-hand items. Depending on your purchasing decisions, outfitting your garage gym could cost you anywhere from $500 to $5,000k+.
Another essential thing to consider is your floor space. A single-car garage can only store limited items.
Flooring
Garage flooring is the most crucial element of running a garage gym. Your regular concrete floor isn't suitable to set up gym equipment because the concrete will easily crush under unplanned landings or falls.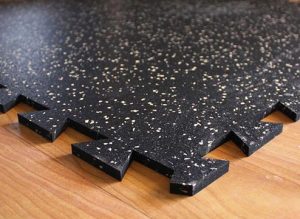 Consider adding a protective layer over the garage floor to ensure utmost safety and prevent costly damages. The gym mats will work best to reduce constant wear and tear and accidental falls. For a more reliable option, consider adding Rubber-Cal Diamond Plate Rubber flooring rolls, Drymate armor felt carpet mats, or GarageMatExpress floor mat.
When building or redoing your garage, installing PVC floor tiles is an excellent idea because the PVC provides an excellent non-slip surface to exercise on.
Optimum Floor Space
A gym wouldn't fit in a small space. You'd need enough floor space to keep equipment and move around. Everything you do should be with the optimization of floor space in mind.
Use the limited garage floor to your advantage by limiting the stuff you store in it. Start with removing all the clutters and junk from your garage, renting a storage pod for stuff, parking your car in the driveway, or installing a single cabinet or shelf to store items.
The three gym items that take up the most space in the garage; rigs, equipment storage, and specialty equipment. For smaller garages, you'd need to limit these to a minimum.
Rig Selection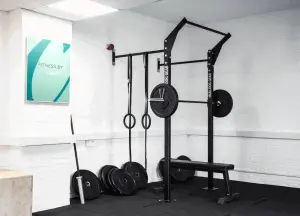 Your garage size will determine the appropriate gym rig selection. Depending on your floor space, consider choosing;
a wall-mounted rig
a collapsible or retractable rig
a free-standing rig
A wall-mount rig fits on your wall and ceiling hence saving the floor space. You can consider a collapsible rig that can be extended or collapsed according to the use as an option. A free-standing rig is a power rack that stands on the floor. Consider a free-standing rig only when you have enough floor space.
Heating and Lighting
Nobody wants to work out inside a cold garage. Keep your garage temperature optimum to ensure each of your workout sessions is appropriate.
A gym requires more brightness than a usual garage so that you can see gym gear and equipment correctly. Consider installing additional lights and keep the garage brightness at least 5,000 lumens.
To ensure your garage is heated, install insulation on the garage walls and doors.
Mirrors & Entertainment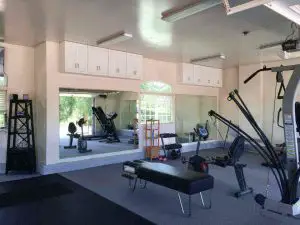 If you're a gymgoer, you would agree that a gym is empty without wall mirrors. Consider adding lifesize mirrors on the garage wall, so you can see yourself when exercising.
For a relatively small and straightforward gym mirror, you should expect to pay at least $40. The price will go up as you go up in size, quality, and framed options. Choose to pay a minimum of $100 to $200 for garage mirrors.
Another benefit of adding a garage mirror is that it makes your garage space look bigger.
Playing music helps to boost your workout routine. Consider installing proper stereo inside your garage, or install a television for a more visual experience.
Consider a gradual build-out. Start with a simple home gym and expand over time. That way, you will not invest in cheap fitness equipment that will not last or could even be unsafe. Shop around by searching for the best offers. There is a lot of good quality used fitness equipment on the market if you search. Check out the home gym group on Reddit for ideas.
Installing a Garage Gym
Here are a few things that you must keep in mind while installing a garage gym
Measure your space – Measure your garage space and how much you will be able to spare to keep gym equipment. Keep some area for exploration or to walk around.
Equipment sizes –Next time is to determine the equipment and its sizes. Consider fewer or adjustable equipment for smaller garages.
Make a plan –Draw the garage gym plan on paper to change it until you find the correct configuration.
Start with rails –Start with installing rails on the wall or ceiling to fit sizeable equipment. Make sure to buy heavy steel rails that hold up to 1750 lbs of weight. Use heavy-duty screws for a quicker and sturdy installation.
Install a large piece of equipment and storage –The last step is to install large equipment in their respective places. Don't forget to add a storage unit to keep cardio equipment, dumbbells, specialty bars, iron plates, etc.
How to prevent gym equipment from rusting?
Yes, gym equipment will rust in your garage, especially if you live in a hot and humid environment. If your garage is not a part of the Central AC system, the moisture and sweat will expedite the equipment rust process. Some of the first equipment to go are barbells, steel plates, and racks.
The salt and sodium chloride found in the seat contributes to metal rust. Metal in the presence of water molecules (moisture) and sweat salt corrodes quickly.
However, rust on your equipment is easily preventable if you take proper precautions.
Clean your gym equipment regularly will prevent rust. Use a towel dipped into a solution of cleaning soap and water. Wipe down the piece of equipment.
Use another towel to wipe off any excess.
Once a month, use 3 in 1 oil and a nylon brush to clean the equipment.
Apply the oil and let it soak into the steel for a few minutes before wiping it off.
Consider a gradual build-up of the garage gym. Start with a simple list of equipment before expanding it over time, and ensure not to invest in cheap fitness equipment.