A garage flooring takes a lot of foot and vehicle traffic daily, including significant abuse from stains, oil drips, water spills, and road salt around the year.
Your garage floor will soon start experiencing cracks, rips, and color fades as time passes. To prevent this, you'd need to choose durable and sturdy garage flooring that will withstand wear and tear for years to come.
Proper garage flooring adds protective layers to the plain concrete surface and enhances its appearance to complement your garage walls and ceiling.
Why is Garage Flooring Important?
Many homeowners wonder if they should spend more on improving their garage floor when they already have a sturdy concrete floor.
You should understand that the garage isn't just the place to park vehicles but also a place to spend time working on projects, exercising, or sometimes partying.
A good garage floor will stand out with its sleek style, vibrant color, and unique texture, adding a modern touch.
The protective coating applied on the surface will resist stain and moisture damage.
It becomes easier to clean the garage floors of dust, automotive fluids, and burns.
Planning for garage flooring is as important as building a new garage. And, not all flooring options available in the market are suitable for the garage.
Here is a complete guide to installing the best garage flooring within your budget.
Garage Flooring Options
When it comes to garage floor covering, you should consider the following factors; sturdy, traction, and minimum wear and tear.  Here are some of the choices of garage flooring for your budget and preference.
Epoxy Flooring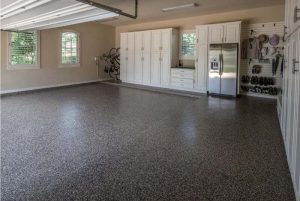 Epoxy flooring is one of the most chosen garage flooring options. By far, it's the most durable and expensive flooring choice. It's a polymer paint containing a built-in hardener such as marbles, pebbles, or slates that provide a resilient surface on any floor.
The finished surface can easily withstand heavy traffic and repel oils, water, and chemicals. It also contains anti-slip additives for enhanced safety. Almost all garage floors, including concrete and stone floors, are suitable for epoxy flooring.
The durable coating is resistant to scratches, dents, and dings, so your garage floor will be able to stand your active lifestyle. It also requires less or no maintenance.
Installing garage floor epoxy costs between $3 to $12 per square foot. Flooring a single-car garage (250 Sq.ft.) may cost between $750 to $3000 and a double-car garage between $1200 to $6000.
For homeowners using the DIY method:
Before applying epoxy, make sure your subfloors are resistant to moisture, and no dampness is observed.
Clean and cure the concrete floor and test the surface for cracks and chips. Repair it before applying the solution.
Choose from two different types of epoxy coatings; water-based epoxies and solid epoxy.
You can easily apply it over a concrete and stone floor.
Epoxy flooring is available in an attractive variety of colors, so don't settle for a simple flooring option. Once you apply the epoxy-sealed concrete, you can relax for the next 10 to 20 years.
Floor Paint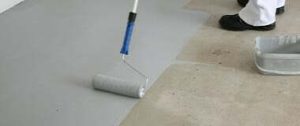 Using concrete floor paint is an economical choice. It's a stricter version of paint that goes on walls and offers additional protection to the bare concrete garage floors.
If your garage floor is stained with oil, grease, or rust, you can easily give it a new look by applying concrete floor paint.
Choose from Latex floor paint or oil-based paints: Latex floor paint is easier to apply and clean up, and it dries up quickly. On the other hand, oil-based paint is more durable, offers high gloss, and lasts longer than latex paint.
For added durability, choose latex floor paint that includes a small amount of epoxy resin. It's designed to make the surface hard and resistant to oil stains.
Things to remember while applying floor paint
Make sure the paint is listed for use on concrete floors.
Before painting, ensure to repair any cracks with concrete filler and then apply the primer.
A well-painted cover can last anywhere from three to four years, but it's especially vulnerable to road salts and antifreeze.
The cost of painting a garage floor could run from $0.78 to $3.51 per square foot.
Floor Tiles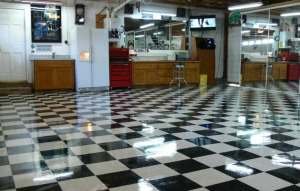 Garage Floor tiles are a common choice but you can't use the same resilient vinyl floor tiles used in other living spaces.
For the garage, the more appropriate choice is rigid or semi-rigid plastic, rubber, or wood composite tiles. They have interlocking edges and form a slightly raised floor with significant strength. It can easily withstand heavy foot and vehicle traffic compared to the painted concrete floors. However, it can be 4x more costly than floor painting.
Consider adding rigid tiles to cover stained or cracked concrete floors that are hard to repair.
You can choose from vitrified tiles, plastic-based tiles, rubber tiles, and wood composite:
Vitrified tile is a ceramic tile with very low porosity and strength to withstand traffic and harsh weather. It's a more expensive choice for garage flooring. You can choose from soluble salt, double charge, full-body, or glazed vitrified tiles.
Plastic tiles can very well handle heavier loads, including floor jacks and kickstands. They are easy to clean, more chemically resistant, and cheaper than vitrified tiles.
Rubber tiles are similar to interlocking tiles that are suitable for everyday garage use.
Wood composite is more appropriate as an underlayment for carpet and other floor covering.
The cost for installing floor tiles may run from $2.5 to $4.25 per square foot. Installing ceramic tiles could cost anywhere from $1 to $35, depending on the material used.
Vinyl tiles are best suited for temperate climates or a heated garage. The cost for installing VCT may cost anywhere from $0.25 to $4 per square foot.
Floor Mats
Floor mats are an inexpensive flooring option. Standard carpet isn't made for the garage; hence you should install floor mats made for resistance. It's also the easiest method for covering a garage floor.
You can choose mats made from rubber or polyvinyl plastic that can easily be rolled on any surface.
Tuff Carpet and fabric garage floor mat can easily hold many weight, dirt, and traffic. The significant advantage of using a floor mat is choosing from different sizes, color options, and patterns.
Although floor mats are durable for heavy usages, such as for the gym, they are prone to damage by hot tires, chemicals, and fire. They can also be slippery in snow or icy condition.
When buying floor mats, consider mats made of easy-to-clean materials with enough thickness and resilience.
Concrete Stain and Sealers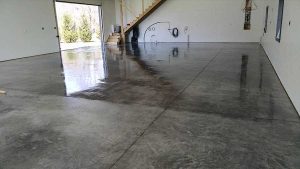 Concrete stains are applied to concrete flooring to give it a natural stone look. They quickly soak into the concrete to create a pigmented and marbled appearance, but they aren't appropriate for durable flooring options.
Concrete sealers, on the other hand, are more challenging and glossier garage floor paint. They're cheaper than epoxy paint but expensive than stains.
Concrete stains can be applied the same as the garage floor paint, with usually two garage floor coated. You may need to wax the sealer annually, touch up the stain, and reseal the floor every two years.
Concrete sealer comes with two options: Acrylic/latex sealer or a Urethane sealer.
Latex sealer doesn't offer much protection from chemicals. After applying, you should add protective wax every year.
Urethane sealer is tougher than latex sealer and provides a much-needed high-gloss finish and resistance.
A urethane sealer is more expensive than a latex sealer. Applying sealer may run from $0.25 to $0.50 per square foot. The cost for applying concrete stain may cost $0.20 to $0.85 per square foot.
Rubber Flooring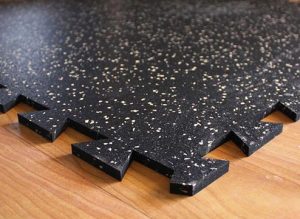 Rubber flooring is a durable garage flooring choice because it provides resistance, traction, and minimum wear and tear.
The flooring is made from high-quality industrial rubber that easily withstands heavy foot and vehicle traffic. They're also perfect for garage gyms and workshops.
You get three choices with rubber flooring.
Rebonded rubber is made from securely bonding pieces of high-quality rubber with resin. It's a good choice for garage gym but unfavorable for oil spills, hot tires, and warm liquid.
Vulcanized rubber is a more durable choice. The vulcanized rubber isn't fixed with glue but melted together to create a stronger bond and resistance.
Virgin Rubber is made from 100% rubber. It's the most expensive choice of rubber flooring. The high-grade rubber is also used for Olympic games that withstand heavy equipment, sweat, liquid spills, etc.
Conclusion
If you're converting your garage into a living space, it's better to choose a more durable and long-lasting garage floorings option such as hardwood floors or epoxy.
Many homeowners choose not to install flooring in their garage. If you aren't up for any flooring, consider using a polished concrete floor to add the grace and elegance of polished tiles. They are stain-resistant and easy to clean.