It's hard to spend time inside the garage during winter. The not-so-well insulated garage can easily send cold air inside, keeping the space cool. Although you don't spend a lot of time inside the garage, you'd still use the space to store your vehicle, tools, machinery, and DIY projects. For homeowners who spend a lot of time working on their vehicle or their makeshift workspace inside their garage would need a warm space.
Fortunately, you can prevent cold shivers by installing a garage heater specially designed for enclosed spaces like garages. These heaters employ compact size, customized heating units, safety, and proper circulation to ensure that the entire garage space remains warm.
Putting on hats and gloves and piling on layers of clothing could restrict your movements, but a garage heater can ensure that you stay warm enough to work.
Why do you need a Garage Heater Buying Guide?
A buying guide will help you locate the most efficient and reliable heater for your garage. It's essential to learn the benefits and differences of different garage heaters because some are more appropriate for residential uses while others are used in larger spaces such as warehouses.
Before buying a garage heater, you would need to know about different garage heaters available on the market, garage features, and type of heater appropriate for your garage floor, space safety, local codes, and varying price ranges.
In some areas, homeowners' associations required you to have built-in heaters in your garage. This requirement protects the home from weather damages.
Another thing you have to consider is cost. Heating the larger garage space costs more, and running a garage heater could cost anywhere between $600 and $1500. By choosing the right heater type, you can save a lot of costs in the long run.
We have prepared a comprehensive garage heater buying guide for both first-timers and experienced users.
Garage Heater Types
Not all garage heaters are built equal. You'd need to consider your garage type and heating need before choosing a garage heater.
There are three primary types of garage heaters that you can buy on the market.
Forced-air garage heaters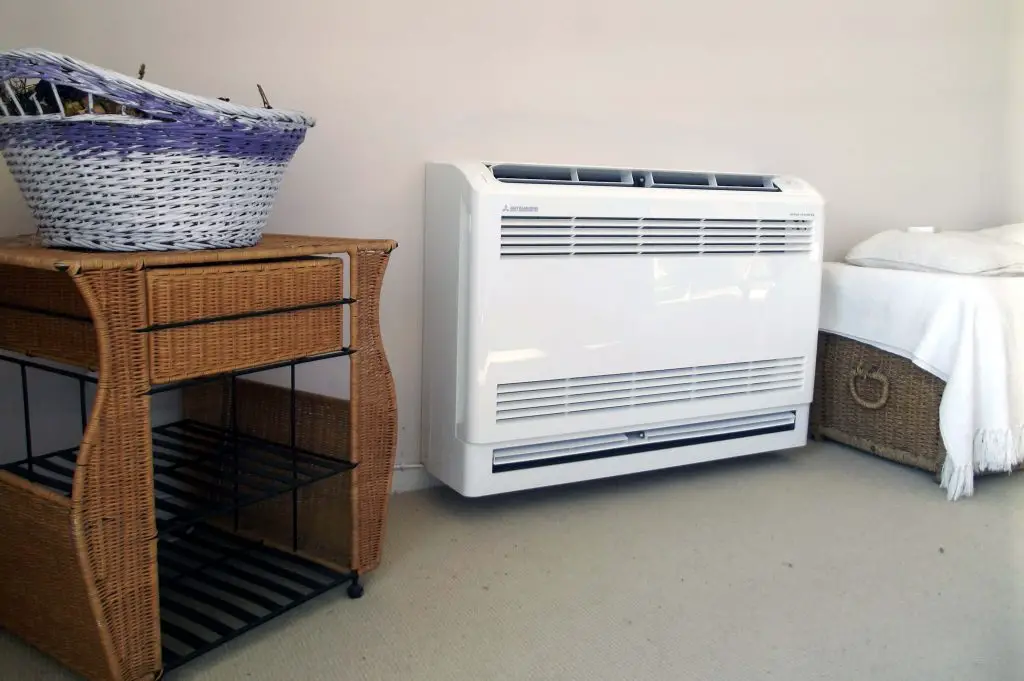 A forced-air garage heater heats the space by cycling blasts of hot air. The fan-forced heater is one of the most common garage heating units used for residential purposes. Unlike others, a forced-air motor heats the air, which makes space warmer in a short amount of time.
You can find two different forced-air garage heater types; one that runs on natural gas or propane, and another that runs on electricity.
Gas-powered units tend to be cheaper than running electricity-powered units because natural gas is more affordable than electricity. However, natural gas heater tends to cost more upfront than electric units.
Because of their built, forced-air tend to be noisy. You can quickly lose heat when you open the garage door or window. It may also take longer to heat the bigger garage space as heat rises and stratifies onto the ceiling.
A forced-air heater doesn't suit garage spaces to paint and conduct woodworks. And depending on your local codes, you'd require a professional installation.
Convection garage heaters
A convection garage heater is a traditional heater that moves air past a heating element warming the surrounding air and sending the hot air away from the heater. These are the most affordable heaters on the market that you can buy for your garage.
You can choose from either a baseboard heater or water/oil-filled heaters.  The water/oil-filled heater is more efficient than the baseboard heater.
One of the disadvantages of convection heaters is that they don't stay warm for very long after the built-in thermostat kicks off.
You can easily find a bigger convection heater for any-sized garage. Sizes can range from a short 20-in unit to a more extended 96-in unit.
Radiant garage heaters
Unlike other heater types, the radiant heater heats people and object instead of air. It's easier to use a radiant heater when you're sitting in front of it; hence it's mainly used for residential purposes.
If you want the heat quickly, this is the right choice for a workshop heater. However, you must be careful when using them because they often scald objects and animals when kept near the unit, including catching fire.
It's more efficient than a forced-air heater because it eliminates duct losses. If you have an allergy to dust and allergens, then a radiant heater is the right choice.
You can find three different types of radiant floor heat, including; Air-heated radiant floors, electric radiant floors, and radiant hydronic floors. Installation may depend on the heater size.
Infrared Garage Heaters
An infrared garage heater delivers radiate heat instead of the conventional blower fan. These are a type of radiate heater used in large spaces such as warehouses and double garages.
However, an infrared garage space heater takes enough time to warm the space because it heats the object first. It provides uniform and consistent heat distribution rather than dissipating the heat to the ceiling.
One significant advantage of using an infrared heater is that it doesn't suck the moisture out of the air and prevents heat loss through ventilation.
You can choose from infrared propane heaters to electric infrared heaters.
Infrared heaters are more appropriate for a garage with a higher ceiling because they must be installed a 7-ft above the floor (It may depend on the heater size).
Mounted or Portable Garage Heater, Which one to choose?
After deciding what heater type is more appropriate for your garage, you'd need to decide its portability.
You can choose between either a mounted heater for garages or a portable heater.
Mounted garage heaters
As the term suggests, mounted heaters mount to the ceiling or wall. You can pick an excellent spot for your heater before installation, but you can't move it anywhere else.
A mounted heater doesn't necessarily mean that it's rigid in design. Nearly all mounted heater models feature adjustable thermostats, safety features, temperature settings, and remote control options.
One significant disadvantage of the mounted heater is that it typically costs more than portable heaters; however, you needn't worry about tripping on wires.
B. Portable garage heaters
You can move the portable heaters from one place to another. It's more appropriate for homeowners who need a dedicated heating unit when they're working inside the garage so they can take it along. It warms objects directly in front of them -imagine sitting near a campfire.
Portable heaters cost lesser than mounted heaters. Depending on their sizes, portable heat outputs lesser power than conventional heaters.
You will find portable heaters, either electrical heaters or kerosene garage heaters. A portable electric heater is a more excellent choice than kerosene garage heaters.
Note: Beware of using a powerful portable heater (using 80,000 – 200,000 BTU) inside an enclosed space because of carbon monoxide and fire danger.
What about the Heating Power Source?
Each garage heater type offers different heating power sources. You have a wide range of energy options to choose from.
Electric garage heaters are an eco-friendly choice, but they pull a lot of power; hence you'd need a designated electrical circuit on its breaker. Many cities and states offer incentive programs to homeowners using electric heaters. (Check for your eligibility).
Heaters run through natural gas are the most common type of garage heater because natural gas tends to be the cheapest power source. If you already have natural gas service to your home, you can consider installing a natural gas-powered heater.
Propane-heaters are another option for homeowners who already have propane lines. If you don't have one, you can consider buying propane tanks to fuel your garage heater.
Some common Queries before buying garage heaters
What are the prices for installing or running different types of heaters?
When talking about price, you'd need to consider the garage heater type, garage heater size, output (BTU), and a power source.
Heaters that run with natural gas or propane will cost lesser than heaters running with electricity. Although it's cheaper to run natural gas heaters, it can be costly to install one at home. You'd end up paying $500 to $2000 to install and connect the unit to your natural gas line.
Most electric garage heaters cost $100 to $400, but the electricity bill can run up to $100 a month. However, if you have installed solar panels on your roof, you can get electricity for a lot cheaper. Check your area eligibility for state/city incentives on electricity.
An average propane gas heater costs $150 to $450. You'd either need to connect it to the propane line or keep buying new propane cylinders every month that can rake up the cost.
What is the capacity required from heaters for garages?
The individual capacity of the heater depends on your need. A larger heater includes a higher capacity (BTU/British Thermal Units) than smaller heaters. Determine your garage size, climate zone, insulation, and heat settings before choosing a heating unit.
If you want a portable heating unit dedicated to a spot heating but the entire space, you can get heaters with lesser BTU (45,000 BTU to heat a two-car garage and 60,000 units to heat a three-car garage)
Heating a garage unit with a higher ceiling will require central heating with higher BTUs of heat (50,000 BTU or more). Garages that are well-insulated will need a heater with lesser BTUs of heat (less than 45,000 BTU).
Is garage insulation more appropriate than garage heaters?
Insulation is the cheapest way to keep your garage warm and temperature control; however, this doesn't guarantee warmer garages. On the other hand, a garage heater is an auxiliary heating unit that makes your garage warmer with or without garage insulation.
Although insulation comes in handy for most garages in cold regions, you won't have control over the exact temperature of your garage, nor can you warm your garage where temperatures regularly dip below freezing.
A garage heater can provide additional warmth to your garage, and the insulation will help regulate the warmth without letting it escape. Insulation is useful for garage heaters. Ensure your garage walls, ceilings, and door panels are insulated (min. 4-in thick in the walls and 6-in thick in the ceiling).
What are other features that you should look for?
Built-in safety features are the primary consideration for any garage heater. Check with the manufacturer for the following safety features;
Tip-over switch – The heater turns off automatically when it gets turned over.
Overheat protection – It switches off the heater when it reaches a specific temperature to avoid overheating.
Cool-touch housing -Heaters with casings that stay cool.
Electrical requirement – The circuit feeding the heater must carry the amperage and voltage your heater requires.
Automatic turn-off – The heater turns off after a specified time. It's appropriate for forgetful homeowners.