Essentially, this is a motorized device that opens and closes the garage door. It can either be controlled by a switch near the garage or even remote controls. Decko has been designed with the expertise to ensure that it serves you satisfactorily without frustrations.
Check Price and Reviews on Amazon
High technology has been applied in the design of this device to guarantee safety. Such features include optical safety sensors, emergency safety release and reverse safety system. With the collection of standard features, this modern garage door opener does not only deliver premium performance but also ensures the safety of the surer and the people around.
Decko 24300 Garage Door Opener Review/ Major Features
Prices pulled from Amazon Product Advertising API on:
Product prices and availability are accurate as of the date/time indicated and are subject to change. Any price and availability information displayed on [relevant Amazon Site(s), as applicable] at the time of purchase will apply to the purchase of this product.
1. Unprecedented  safety
Garage doors are associated with accidents ranging from minor injuries to major breakages. This garage door opener has been designed with the skill to lessen the probability of such. With the arsenal of standard parameters, Decko 24300 is very safe.
It has an auto-reverse safety system which is a feature that reverses the door once it hits an obstruction. This ensures that the door does not damage or injure someone who might be in its way when it is either opening or closing.
This is complemented by an emergency safety release which also works towards the safety of the user.
The wiring is not polarized leaving zero chances of an error during connecting. It also has an optical safety sensor.


2. Lighting system
Garage doors tend to be used even at night. A lighting system is therefore very vital. Decko 24300 has been designed with this in mind.
It has a very dependable, consistent lighting system that allows you to install bulbs of a maximum of 200W. This implies that you can install two 100 Watts bulbs.
The heavy-duty unit is therefore very appropriate even in night as you do not need a separate lighting system.
Note: the bulbs in this system are purchased separately.
3. Reduced Noise chain drive and availability
Garage door openers are associated with a lot of noise due to the chain drive. However, in this premium quality door opener, the noise in the chain drive is greatly reduced.
This creates a very conducive working environment that is not irritating. The chain drive is very strong thus one that you can rely on.
If you have ever ordered something online only to learn that it is out of stock later, you know how frustrating it can be. Decko 24300 is available on market and is shipped to you conveniently upon order.
4. Ergonomic
Garage door openers can be hectic when they are hard to operate and install. Decko 24300 is ergonomic, featuring a unit that is not only easy to install but also very easy to operate.
The easy to install design has a remote control that has three buttons that are also very easy to use and do not require any expertise. It also has an entry pad which is very opportune as it does not require keys.
The ergonomic design has a wall panel that has three functions which makes it easier to operate.
5. Premium Performance and Durability
Decko 24300 delivers excellent performance. It fits most garage doors and can handle garage doors measuring 7 by 18 feet (2.13 by 5.49 m) large doors are accommodated by an extension of approximately 8 feet.
The garage door opener is therefore very convenient and reliable.
The durability of this unit goes unquestioned. It is designed to last very long and has a 1-year warranty on all parts other than the motor which has a limited lifetime warranty.
The motor is designed expertly to stand extreme temperatures without damage. Additionally, it has gone through the 20 point inspection for quality control.
Why should you use the Decko 24300 Garage Door opener?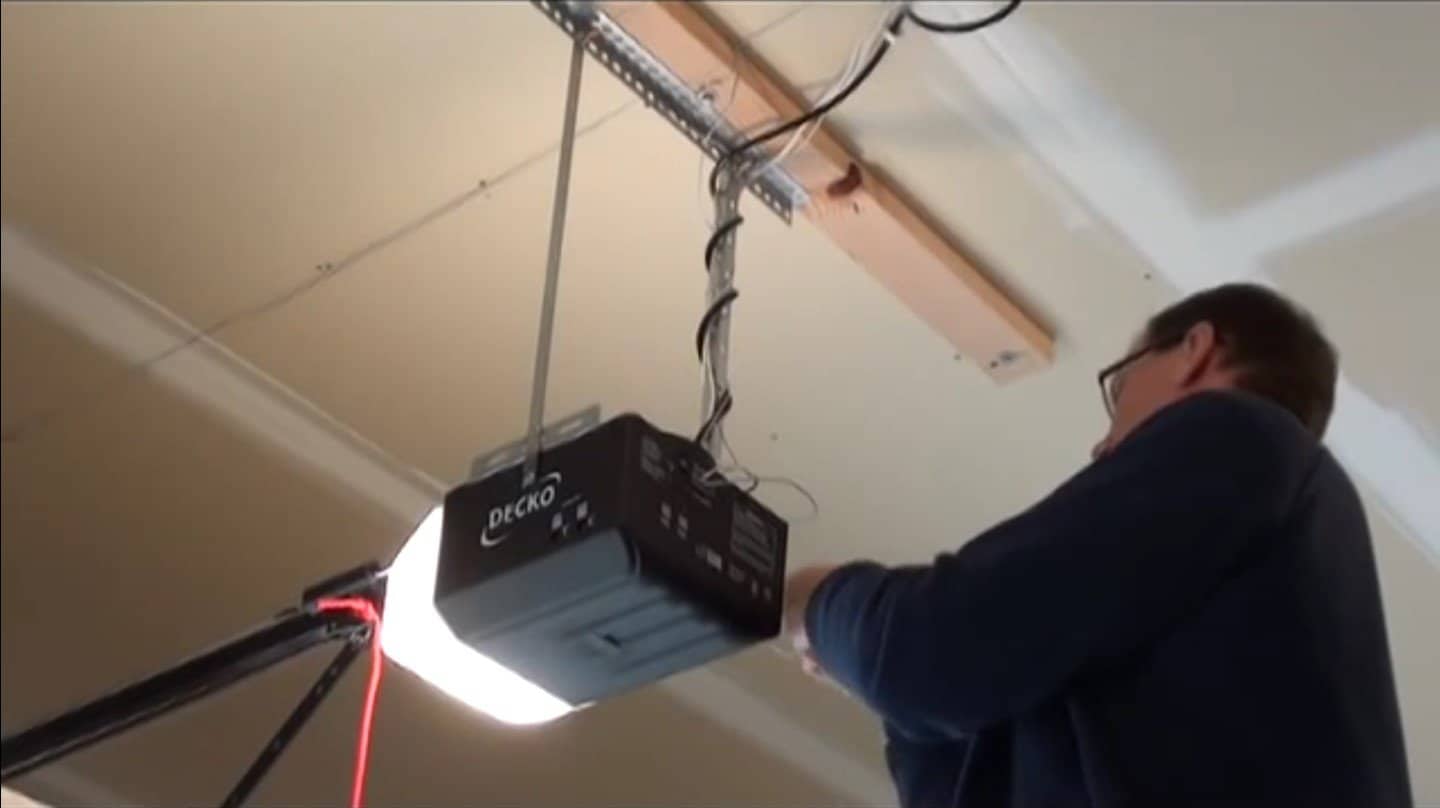 1. Safety and security
The Decko 24300 Garage Door opener has safety optional sensors that are accurate and help in detecting any obstacle that is beneath the door and reverse the closing process.
This helps to keep your pets or kids from the closing door hence ensure their safety. This garage door opener comes with rolling code technology which highly improves the security of your garage door.
2. Easy installation
It does not require a lot of work when installing. Thanks to its non-polarized wiring you will need two hours. The process is easy and you do not require any professional.
Its simplicity in installing and its automatic programming feature that requires few minutes to adjust it makes this garage door opener worth having.
3. Lifetime warranty
This is a great thing to any buyer and a good reason why you should use the Decko 24300 Garage Door opener.
The support service also is good because they can be contacted at any time for help. Unlike other competitors in the market, the warranty is good and great among all its other competitors.
4. Affordable
Has an affordable price considering the features it has. With a powerful ¾ hp chain drive, a wireless keyless entry pad, a two three-button remote, a 200W lighting system, and other amazing features, the Decko 24300 Garage Door opener has an affordable price.
5. Durable
This Garage Door opener is made with quality material. Its parts are made with quality material making them last for a long time. The motor is durable and reliable. This is more reason to use it because it will serve you for a long time.
Product Benefits
Great package with an extension kit for 8ft door
Easy to install
Supports 200W lighting
Has a keyless entry
Durable
Three part rail system
Quiet than usual
Has great safety feature system
Easy controls and operation
Designed to handle extreme hot and cold conditions.
The Negative Things
Does not support internet based features
Its lights only come to work after the door is fully opened
Little delays in opening and closing when using remote control
FAQ-Frequently Asked Questions
Where is the Decko 24300 Garage Door opener manufactured?
China.
Is the garage door opener home link compatible?
Yes it is
Can the door still open if the power go out?
Yes there is a release mechanism in case the power goes out
Does the Decko 24300 Garage Door opener come with the rails?
No the rails are purchased separately
Can the garage door opener work on a 3-inch door?
You have to buy the extension for the 8-inch door.
Final verdict
Garage door openers are very important devices as they to a great extent add value to your garage. With the ever-advancing technology, the market is literally flooded with these devices.
While this may have helped lower their cost, it has on the other hand made the decision on which one to purchase a tough one. As a result, finding genuine information about them before the purchase is paramount.
Gecko 24300 garage door opener delivers first-rate service and is very dependable. Although it is a bit expensive, it is one that is worth investing in as it is worth the cost.