Garage door openers aren't novelty items but a standard amenity for many homeowners. Choosing quality door openers is as crucial as building a safe garage.
About Craftsman CMXEOCG981 Garage Door Opener
Craftsman Door Opener is one of the most sought-after door openers in the market today. Its durable Lithium body with rugged steel construction and 1¼ HP motor can easily lift a standard 7-foot door. The steel-enforced belt-drive system makes it an ultra-quiet garage door opener compared to its chain-drive counterparts.
Craftsman CMXEOCG981 belt-drive door opener includes a built-in Wi-Fi feature, wireless keypad, safety sensors, two incandescent bulbs with the light control button, all-weather cover, and LCD multi-function wall control.
It also features 3-button remote control that allows you to program up to three garage doors. This boosts the RF frequency range up to 1,500ft. It's compatible with HomeLink® in-vehicle remote control system for remote-less access.
The multi-function LCD wall controller will light up upon detecting your motion. It's the central hub for system diagnostics and custom programming.
Constructed with top-grade Lithium Metal, the unit is guaranteed to last years. Moreover, Craftsman offers a 5-year manufacturer warranty for parts and a lifetime manufacturer warranty on Motor, Drive, and Accessories.
Craftsman 1/2 hp Garage Door Opener, Chain Drive
Security+ Anti-Burglary Coding sends a brand new code every time you use your remote

Infrared safety reversing sensors prevent door from closing when anything enters its path

Posi-Lock system locks door when it is down

Light (up to 75W) turns on when sensors are obstructed & door is opening or closing
Is CMXEOCG981 Reliable?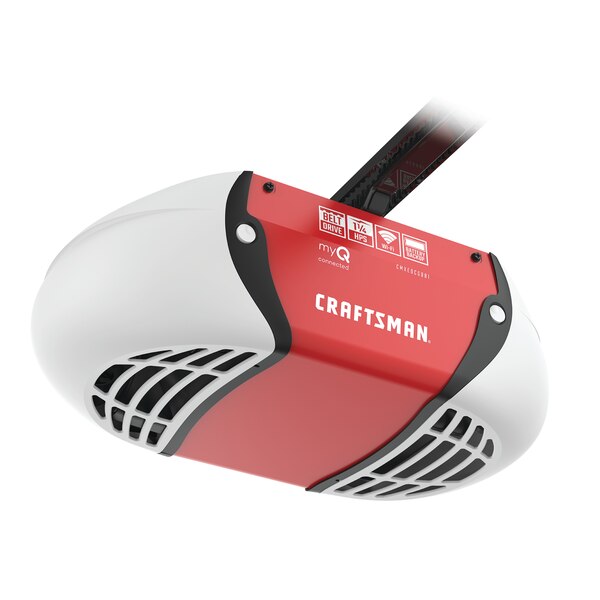 Every Craftsman garage door unit is produced by the same manufacturer who makes high-end Chamberlain door openers. Yes, Craftsman door openers are produced by the same company that produces Chamberlain; hence both these door opener units have many similarities and safety features.
Craftsman garage door opener incorporated with a 1¼ HP motor offers enough torque to open even the heaviest doors. Determining horsepower (HP) should be the first criteria in picking out a door opener. Most standard doors work efficiently with a 1/2 HP motor, but for a door made with a heavier material such as wood and tall garage doors, you'd need a 3/4, 1, or 1 1/4 HP motor like the Craftsman does.
The smoother motor unit and belt-drive technology offer a quiet operation. The best-drive technology keeps it smoother and quieter than its chain-drive counterparts. On top, it will also lift most wooden and ornate doors.
The intelligent door opener unit is sure to use less energy than most door opener models available today.
It's easy to install and maintain, providing years of dependable service and customer support.
Safety Features of CMXEOCG981
Craftsman provides secure access. It uses a Tri-Frequency radio system (RF) that virtually eliminates the effects of interference caused by devices in and around the home. Craftsman features a remote that operates at 315MHz. You can easily access your door opener with a wireless keypad from a great distance.
The anti-burglary coding technology provides convenient and secure operation of your door. Craftsman door opener features a rolling code (code security technology) that changes every time the wireless keypad is activated. This not only enhances the security but also gives you complete control over who can access your garage.
Moreover, the built-in Wi-Fi paired with a myQ access app for smartphone control helps to monitor and control your garage door from any place. You can easily set up alerts for entry, set schedules to close doors from any place, and grant access with CRAFTSMAN® myQ Guests.
Each Craftsman product features 24 programmed permanent PIN options. You're free to program 24 temporary PINs for limited, single-use access as well.
You can use the multi-function LCD wall control to set the opener to auto-close it after a certain amount of time if you often forget to close the door. It's entirely safe for children and pets.
California Battery Backup Compliant
As of July 1, 2019, California law requires every modern garage to have a battery backup to ensure that your door model works safely during a power outage.
The new law came into effect because of the previous life-threatening wildfire incidents in the region. Many people became trapped inside their homes because their electrical door wouldn't work during a sudden power outage.
Each door opener model produced by Craftsman complies with California Garage Battery Backup Law.
Reasons to buy CMXEOCG981 garage door
Easy to Use/Universal garage features
Secure/Safety Sensor
Auto-Close Feature
Has 24 Permanent and Temporary PIN Options
Can Program up to Three Doors
Built-in Battery Backup
Ultra-quiet belt drive garage door opener
High-Quality
Built-in Wi-Fi/myQ innovative technology
What do customers have to say?
Although most customers gave it the best ratings, few customers complained about the complicated installation process. They had to call up the professional to install the garage door opener.
Should you install Craftsman CMXEOCG981?
The Craftsman CMXEOCG981 Garage Door Smart Opener is ideal for all types of garages (attached or detached garages). Thanks to its quiet mechanism, you can easily opt for the attached garages. Craftsman offers a high-quality and safe opener programmable with up to 3 garage doors, a win-win.
If you're looking to upgrade your old garage door opener unit for something more innovative, consider Craftsman CMXEOCG981. It will be a valuable upgrade to your current chain-drive garage door opener! It's time you say goodbye to the noise!