Did you know, a garage door opens and closes an average of 1,500 times a year? It's apparent that you, as a homeowner, should buy a garage opener that lasts longer. A garage opener that saves you on the recurring costs of maintenance and energy bills, prevents unwanted access and offers remote monitoring should be your safe bet.
Chamberlain B4545 is one of the few prominent garage openers on the market that is entirely worth your money.
According to Consumervoice.org's report (updated April 2021),
Chamberlain B4545 has the highest rating -10/10 stars with 2392 reviews of all garage door openers on various online stores.
If you're still not convinced, let's talk more about the price and salient features of B4545 and how does it compare to similar products in the market.
Is Chamberlain B4545T / B4545 any good?
Chamberlain B4545T B4545 Secure View Garage Opener offers an ultra-quiet operation, durable and maintenance-free parts, and robust security features that are unmatched by other garage openers. Moreover, the built-in Posi-Lock anti-theft protection and security rolling code prevent unauthorized access at all times, hence improving your garage door security.
You can access it at all times using the myQ smartphone control app, thanks to the built-in Wi-Fi technology standard in every B4545 model. With a simple click, you can open or close your garage door virtually from any place. It also easily integrates with smart devices and home voice assistants, including Google Assistant, for hassle-free operation, smooth operation. The quiet DC motor garage opener accepts battery backup to meet California SB 969 Law compliance.
Moreover, Chamberlain B4545 is powered by Chamberlain's MED Lift Power System with 1/2 Horse Power that is compatible with garage doors up to 7-feet high. (Doors ranging above 7-feet require an extension kit). You can entirely depend on its steel-reinforced belt-drive garage door opener to smoothly open and close your door without producing unwanted noise and vibration. This comes as 'peace-of-mind for homeowners with attached garages.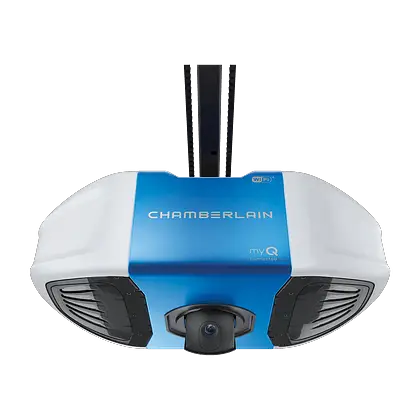 What's new with Chamberlain B4545T?
You can utilize the 2-way audio system for live conversation between your garage and smartphone. A built-in motion-activated camera can be adjusted 360-degrees to detect unauthorized movement towards the garage door. You can also access the 1080p HD live-recording directly on a smart device, where you can also choose to watch recorded feed by subscribing to Chamberlain's Video Storage that costs $60/year. Many customers are bitter about paying additional to access recorded feed. But, you can always opt-out of video storage if you're unwilling to pay extra.
The Prime subscribers can also opt for package Drop-In service using Key by Amazon. With the rising case of package theft, you can be assured that your packages will be securely delivered inside your home.
If a short warranty period is a cause of concern for you; then, you can be joyous about Chamberlain's warranty description. They provide a five-year limited warranty on parts and gear, a lifetime warranty for a powerful motor and belt-drive garage door opener, and a one-year limited warranty on camera and accessories.
What features does Chamberlain B4545T have?
Chamberlain B4545 Secure View is a smart garage hub with robust features, including;
Live Video Recording
Unlike traditional garage openers, the Chamberlain garage opener features a built-in motion-activated HD camera to capture every activity outside your garage door. You can access the footage straight from your garage to your device.  As an option, you can opt for myQ video storage subscription to access videos from up to 7 or 30 days.
Now, it's easier to keep an eye on your garage with B4545. It also comes equipped with glare resistant night-vision lens that auto-adjusts for optimal clarity in the dark. Manually adjust the 360° camera to capture the maximum radius around your garage.
Built-in myQ Technology
Now it's more than easy to access your garage virtually from your smartphone. The unit easily connects to a home network with built-in Wi-Fi®. You can set up to receive alerts and real-time notifications in your on your smartphone. Schedule to close your garage door or turn your lights on/off with a simple click. It also syncs with popular smart devices and voice-assistant platforms including Google Assistant. You can also share access to up to three people to control your Wi-Fi garage door openers with the myQ garage Guest feature.
Ultra-Quiet and Strong Belt Drive Garage Door Opener Technology
Chamberlain Group employs super-quiet belt-drive technology to lift the garage door panels. The belt-drive technology reinforced with steel for added strength quickly lifts your standard 7-feet tall door. The silent drive, lift power feature provides super-quiet performance. It comes as a blessing to homeowners with attached garages. The safety sensor eyes with infrared beam prevent the door panels of the garage from collapsing on objects.
Amazon Drop-In Service
Amazon Prime members can opt for secure in-garage delivery for all their packages. You can now easily protect all of your packages from weather and theft, thanks to 'Delivery with Key' by Amazon Happiness Guarantee. Check for your amazon Smart Garage location eligibility.
2-way Audio System
It comes equipped with a built-in audio system to communicate in two ways, from the garage to your smartphone. You can conduct a live conversation between your garage and your smartphone at any time with working Wi-Fi.
Additional Features
Chamberlain garage opener B4545 is HomeLink® Technology Compatible. It's also compatible with the Ring app, but you should use Home Bridge Product to integrate it to Apple Home Kit.
It's Google home-assistant compatible. Access your modern garage opener with IFTTT & Google Assistant (Alexa not available) for seamless voice control.
The wireless keypad with +2.0 encryption features 100 billion unique codes to protect against possible hacking. The Posi-lock anti-theft protection prevents break-ins.
Models include two 3-buttons TriBand technology that offers superior remote range up to 1,500 feet.
Each model comes with a motion-detecting intelligent control panel with motion safety sensors that easily integrate with your remote control, keypad, or myQ control panel.
Chamberlain B4545T on our Eyes
Chamberlain B4545T Pros
The sturdy belt-drive garage door opener motor with high-grade materials ensures smooth performance. It's perfect for homes with attached garages.
You can easily keep an eye on your entire garage door by accessing the 1080p video right on your smartphone.
The built-in camera features a glare-resistant night vision lens with auto-adjust quality to detect even the minute motion in the pitch dark.
Enjoy Amazon Drop-in service to keep your packages safe from weather and theft.
Easily integrates with smart devices and voice assistance.
Chamberlain B4545T Cons
The model doesn't yet include a backup battery for the power outage.
You must subscribe to Chamberlain garage video storage service to access recorded video clips for an additional fee of $60/year.
It doesn't provide built-in LED lighting
The ½ Horsepower isn't enough for the effortless lifting of the heaviest doors.
How does Chamberlain B4545T fare with Liftmaster Garage Door Openers?
Many of you know that both Chamberlain and Liftmaster's superior range of garage openers are manufactured by the same manufacturer but under different subsidiaries. However, this doesn't make Chamerblain and Liftmaster an exactly similar product.
Liftmaster series is a pro solution with more power and advanced features. They are more appropriate for heavier doors or multi-door installations. With its durable yet small Horse Power, Chamberlain is more appropriate for smaller sectional garage doors; hence, it comes with a lower price tag compared to Liftmaster.
Both Liftmaster and Chamberlain garage openers are eye-catching and aesthetically appealing.
Chamberlain door openers are easier to install compared to Liftmaster door openers that require professional help.
Liftmaster boats of sturdy T-rail extension trolley system where Chamberlain only offer a 3-piece assembly trolley system well suited for lightweight doors.
Chamberlain Group offers greater protection thanks to security rolling Code technology. It includes two pre-programmed remotes (mini and wall control panel), emergency keys, and a keyboard and obstacle detection beams. Liftmaster only includes two remotes, a control panel, and motion sensors.
Talking about warranty, Chamberlain offers a warranty period of 1-5 years compared to Liftmaster's 1-3 years.
Despite many differences, both Chamberlain Group and Liftmaster boast similar features. They both offer AC and DC motors and provide belt-drive and chain-drive garage door openers.
Overall, Chamberlain is more appropriate for homeowners looking for somewhat affordable garage openers and Liftmaster is appropriate for heavier garage doors.
Our Final Verdict
Chamberlain B4545 is a great product that comes at a very affordable price loved by thousands of homeowners.
You can get one for less than $300 at various online stores. It's appropriate for homeowners with 7-feet doors. The additional protection and remote access make it a very desirable product, but it doesn't yet offer a battery backup setup.
Overall, if you want a reliable garage opener for an affordable price, Chamberlain B4545 is your answer.